Cleantech Group Announces 2021 Global Cleantech 100 list of Companies Committed to Delivering the Future and AMPLY Power is Honored to be Selected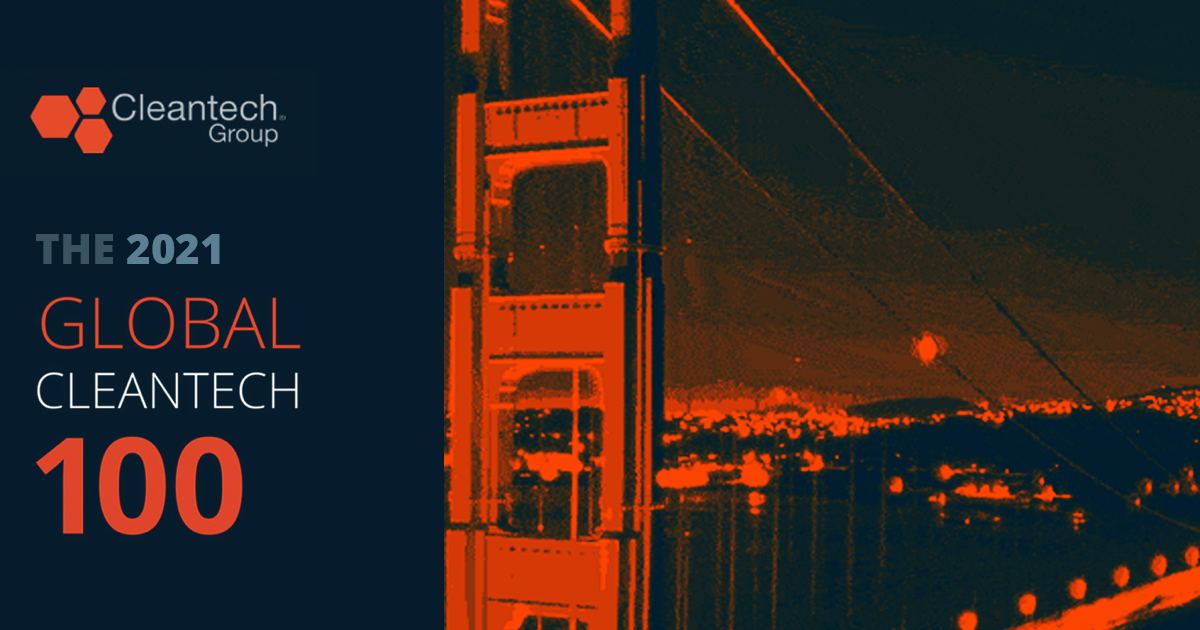 [Mountain View, Calif., December 15, 2020] – Out of thousands of innovators from across the globe, AMPLY Power, a leader in full-service fleet electrification, was named a 2021 Global Cleantech 100 Company by Cleantech Group. Delivering solutions that will take us from climate chaos to transformation, the 100 companies on the list represent the private, independent and for-profit companies best positioned to contribute to a more digitized, de-carbonized and resource-efficient future. This is the 12th edition of the widely respected annual guide. This year's list includes innovators from 15 countries, with just over half located in the US and the rest hailing from Asia, Australia, Europe, and the Middle East. The sectors covered include Agriculture & Food, Enabling Technologies, Energy & Power, Materials & Chemicals, Transportation & Logistics and Resources & Environment.
The list combines Cleantech Group's research data with qualitative judgements from nominations and insight from a global, 91-member Expert Panel of leading investors and executives from corporations and industrials active in technology and innovation scouting. From pioneers and veterans to new entrants, the Expert Panel broadly represents the global cleantech community and results in a list with a powerful base of respect and support from many important players within the cleantech innovation ecosystem.
The Global Cleantech 100 program continues to be sponsored by Chubb, the world's largest publicly traded property and casualty insurance company.
"We are delighted to welcome 50 companies for their first time on this year's new Global Cleantech 100. This replacement rate speaks to the healthy maturing of this innovation ecosystem and to some specific impacts of Covid-19," said Richard Youngman, CEO, Cleantech Group. "On the one hand, the 2021 list reflects the long-running mega-trends like decarbonization, digitization, electrification, and the ever-increasing volumes of deployed renewable energy. On the other, Covid-19's impact is evident – for example, in the uptick in automation and robotics-enabled solutions, in logistics and supply chain solutions, and solutions in the food chain to prevent, reduce and repurpose food waste. Resilience is a new critical factor at play."
For detailed information on AMPLY Power's outlook as an innovator, visit Cleantech Group's market intelligence platform i3 and search for "AMPLY Power".
Download the report and meet the companies solving our biggest challenges
To meet many of the innovators and investors on the 2021 Global Cleantech 100 list,
join us at our virtual events
Cleantech Forum Europe, 12-14 January
About Cleantech Group:
At Cleantech Group, we provide research, consulting and events to catalyze opportunities for sustainable growth powered by innovation. We bring clients access to the trends, companies and people shaping the future and the customized advice and support businesses need to engage external innovation.
Industries are undergoing definitive transitions toward a more digitized, de-carbonized and resource-efficient industrial future. At every stage from initial strategy to final deals, our services bring corporate change-makers, investors, governments, and stakeholders from across the ecosystem, the support they need to thrive in this fast-arriving and uncertain future.
The company was established in 2002 and is headquartered in San Francisco with people based in London, Paris, and Boston.

Media Contact:

Kristin Macdonald, Cleantech Group
Ph. 408-806-9626  Ext. 9626

Kristin.macdonald@cleantech.com
About AMPLY Power:
AMPLY Power offers the only fully managed charging service to the public sector and commercial businesses looking for guaranteed performance and fixed fuel pricing for their electric vehicle fleets. Similar to how data centers optimize for high efficiency, low cost, and 99.99 percent uptime, the company uniquely takes on all components of fleet charging through its scalable Charging-as-a-Service approach. From system design and utility upgrades, to financing, charging infrastructure and maintenance, AMPLY allows fleet operators to expand their zero-emissions operations with confidence and ease, in exchange for an optimized, price-per-mile-driven fee.
To learn more about how AMPLY takes the hassle and risk out of EV fleet operations, paving the way for accelerated EV adoption worldwide, please visit www.amplypower.com or LinkedIn and follow @AMPLYpower on Twitter.
Media Contact:
Technica Communications for AMPLY Power
Lisa Ann Pinkerton
Ph. 408-806-9626  Ext. 9626
© 2021 AMPLY Power. All Rights Reserved.