LACI and BloombergNEF—Driving EV and Clean Energy Transformation Event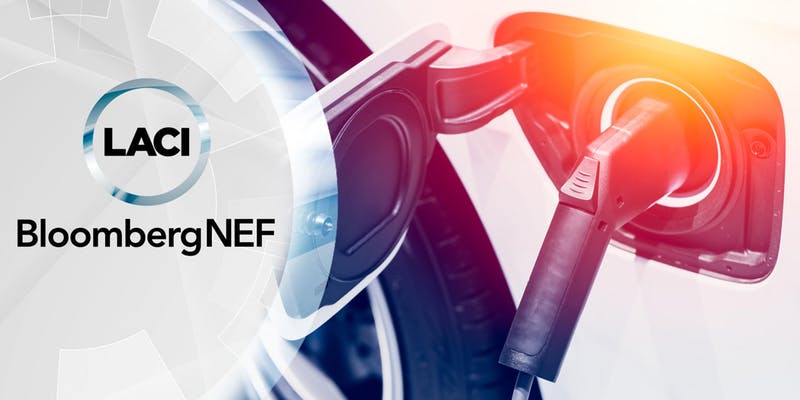 We will be speaking at this event. Come join us!
Description
As LACI prepares to share the 2.0 version of the Transportation Electrification Partnership's Zero Emissions 2028 Roadmap, identifying solutions to accelerate transportation electrification in the LA region ahead of the 2028 Olympic and Paralympic Games, we are partnering with BloombergNEF to provide insights and analysis on the global state of the EV and energy markets to contextualize the work we are leading in Los Angeles.
The New Energy Outlook (NEO) is BloombergNEF's annual long-term economic forecast of the world's power sector. Drawing on the expertise of over 65 technology, economics and policy specialists around the world, this report and accompanying interactive tool captures our best assessment of how energy markets will evolve to 2050.
The Electric Vehicle Outlook (EVO) is BloombergNEF's annual long-term forecast of how electrification and shared mobility will impact road transport from now to 2040. The report draws on our team of specialists around the world and also looks at how these trends will affect electricity demand, oil use and demand for battery materials. This year's forecast includes new analysis on how shared mobility will impact vehicle sales patterns and an in-depth look at how electrification will impact commercial vehicles.
 Date And Time
Thu, July 11, 2019
2:00 PM – 5:00 PM PDT
Add to Calendar
Location
La Kretz Innovation Campus managed by LACI
525 South Hewitt Street
Los Angeles, CA 90013
About BloombergNEF
BloombergNEF (BNEF), Bloomberg's primary research service, covers clean energy, advanced transport, digital industry, innovative materials and commodities. We help corporate strategy, finance and policy professionals navigate change and generate opportunities.
Available online, on mobile and on the Terminal, BNEF is powered by Bloomberg's global network of 19,000 employees in 176 locations, reporting 5,000 news stories a day.
 About AMPLY Power
FLEET CHARGING, SIMPLIFIED. AMPLY Power provides Charging-as-a-Service to de-risk and accelerates the adoption of electric buses, trucks, and passenger vehicles by public and private fleets through its simple price-per-mile-driven model. AMPLY provides a fully managed charging solution that enables municipal and commercial fleets to deploy electric vehicles confidently and without hassles. AMPLY handles all aspects of charging operations on behalf of fleet owners and AMPLY's charging systems are optimized for the lowest electricity costs. The company is funded by Congruent Ventures and Obvious Ventures.
For more please visit www.amplypower.com and follow @AMPLYPower on Twitter and LinkedIn.
Media Contact:
Technica Communications for AMPLY Power
Tyler Allen
225-205-8107
tyler@technicacommunications.com